I started "renting" my clothes...
I love the idea of minimalism. Just having what I need, no waste, no clutter, just the essentials and a few things that I love. The dream. However, from what I have seen this is really only attainable for a very few people, mostly single men. Why?
Because women like VARIETY!
I once read a quote that said, "When men say 'I have nothing to wear', they mean they have nothing CLEAN. When women say 'I have nothing to wear', they mean they have nothing NEW."
For me this is SO TRUE! I have an entire closet full of clothes, yet there are still times when I whine that I don't know what to wear, because I don't have something that fits the occasion or weather or simply my MOOD that day. So I started thinking, if I like to have new clothes to wear all of the time, but I don't have the space or money to constantly be buying new, what other options do I have? Luckily, I didn't have to look any farther than Facebook!
It seems like all of my add's now days on Facebook are either about clothes or beauty products since I am indeed a woman. Yep, they got me pegged alright! But this meant that nearly every day I was seeing an add for clothing rental clubs such as Stitch Fix, Rent the Runway, Gwynnie Bee and many others usually tailored to working business women and such. I dug into these, researching prices and trying to find which one would work best with my life style and what I was looking for, and for me one stood above the rest: LE TOTE.
I chose LE TOTE for quite a lot of reasons, starting with (of course):
THE PRICE
While some of the other options probably have a larger selection and bigger name brand recognition, they were also in the price range of 80 to 150 dollars, which I was just not ready to spend right now. Le Tote landed around 59$ a month, and I chose to add on the insurance bringing my monthly charge to 68.97, (though I got my FIRST box for only 25$!) which I thought very doable! For that price I get three clothing items and two accessories per box, but I get to choose the pace of my boxes. My first box I received in a few days and ended up keeping for over a month as I LOVED the items so much I decided to take them with my on my month long trip to Europe! However you can have as MANY boxes as you want in a month, just allowing time for shipping and processing, so realistically 2-3 a month at the most. This is pretty similar to the process of the other clothing rental systems out there like Stitch Fix, however the feature that I loved that set Le Tote apart was...
I GET FINAL SAY.
Unlike in Stitch Fix where a stylist pics out your wardrobe and you don't know what it is until you receive your box, with Le Tote you have a virtual closet where a stylist puts together some options, but you can choose to swap those options if you want too and approve of the box BEFORE it ships. So far I have swapped at least 3/5 items per box, but I do try to challenge myself to try something new with one of their suggestions. I felt that there was a good amount of variety for me to pick from, and had fun going through all the options to build "my closet", so they only pick from clothing I have already "liked". This feature is what made me decide to go with Le Tote because while I like trying something new, I am just NOT ready to give the power of dressing me to a total stranger!
FREE SHIPPING
This was one of the biggest concerns that held me back from trying any clothes rental service in the first place. I DREAD going to the post office and having to pay for shipping, and living in an apartment I don't even have a mailbox to SEND mail, only receive. But with Le Tote, their two day shipping is free, and your box comes with an already prepaid bag to send the clothing back in, making it CRAZY easy and user friendly. They even sent a little bubble sleeve to protect the ring and belt I received. I was suprised at how easy the whole process was, and nearly an hour after I dropped the package off, I received an email saying they had scanned my package and were preparing a new tote to ship out! I was VERY pleased overall with this process!
THE FIT AND QUALITY
I had read some other reviews out there about Le Tote that seemed to be rather mixed on the fit and quality of the items that others had received, however I was VERY PLEASES with all of my items! My first package arrived RIGHT as my husband and I were rushing out the door for a special event, and I had just been wishing that I had the black dress I had picked in my tote to wear to it! So I made my husband wait two minutes while I quickly rushed to change and I was blown away by how WELL it fit and looked! I was a little unsure of the length as I usually wear dresses that are above my knees (since I am already so short) or maxi dresses, but this became my favorite feature of this dress! The spandex like fabric made it breathable and casual enough on it's own, but also easy to dress up with a necklace and heels! The v-neckline made it fell just a little sexy, and folds in front hit my curves just right while hiding my insecurities.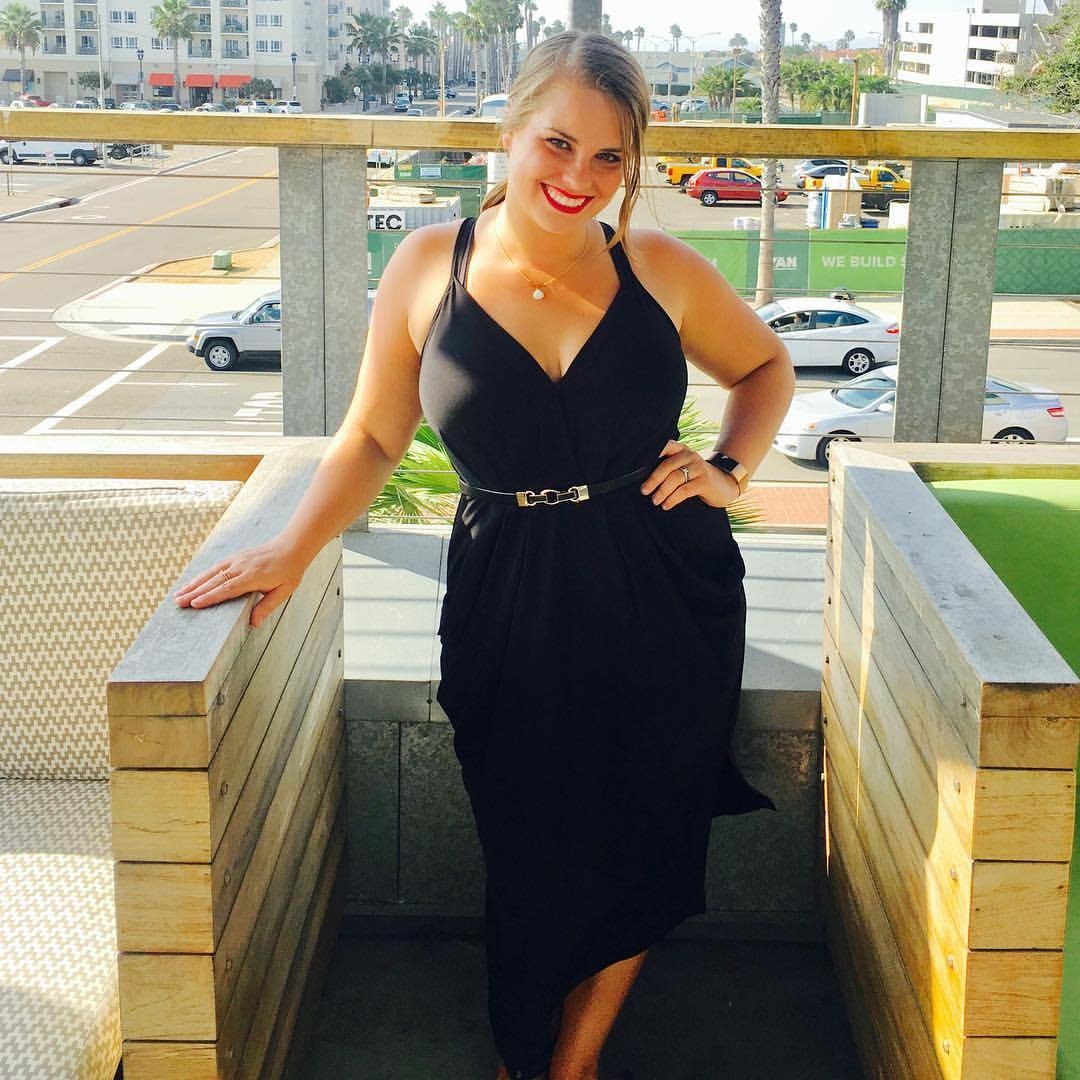 Also, did I mention it had POCKETS!!!
YEP, I WAS OBSESSED and ended up deciding to keep this dress!
Also, did I mention it had POCKETS!!! YEP, I WAS OBSESSED and ended up deciding to keep this dress!
I also loved the way the blue tank top (in the picture at the top) fit and it was great for the really hot days we spent walking all over Europe. The maxi dress also looked great on me, though sadly I forgot to take a picture, and I LOVED the ring and belt and definitely had a hard time sending those back (OK, I actually did just buy these in their black Friday sale!). Which leads me to another awesome feature of Le Tote...
YOU CAN CHOOSE TO KEEP ANY ITEMS AT HALF THE PRICE!
Because you never know when you will find that magic item you just can NOT part with! While I want to rent clothes to help free up the space in my closet, sometimes when something fits and flatters you as much as that black cocktail dress did, it is worth making the space to keep!I got what would have been a 100$ dress for 50$, which seems like a win/win for me and the company! And I have no problem with it being gently used as that's nearly all that I buy now for clothing! Overall I am SO glad that they have this option and it defiantly has made the Le Tote experience just that much better for me!
Other things worth mentioning:
You don't have to wash the items before you return them, they do that for you.
They offer different "plans" if you want more options per box.
If you decide to buy the WHOLE tote, you get one month of membership FREE.
IF YOU WANT TO GIVE LE TOTE A TRY AND GET YOUR FIRST MONTH FREE ON ME, CLICK HERE!
Here are the pictures from the two boxes I have received so far:
BOX #1
Items as pictured in order: 1. BCBGeneration Faux Wrap Midi Dress 2. Timing Essential Camisole 3. Noir Luxe Leather Belt 4. Ava Triangle Stone Ring 5. Collective Concepts Cinched Maxi Dress
BOX #2
Items as pictured in order: 1. Rachel Ray Roy Ruffle Side Sheath 2. Big Buddha Beaded Stretch Belt 3. BCBGeneration Longsleeve Keyhole Top 4. Clement Offset Two Tone Cuff 5. BCBGMAXAZRIA Ruffle Front Dress
This time I did a better job actually getting pictures of everything (thanks to my loving husbands help). He didn't have much fun, but I did! So enjoy some more pictures from my latest box, just in time for the holidays!
Thanks for reading and I will try to update and share as I get more boxes! ~Marissa